Solar Rhythms: Tropic of Gemini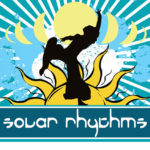 An ecstatic dance event that celebrates each quarter season with DJ Michael P and me. I'll be playing cello, didge, flute, and who knows what else, solo and with Michael. He and I are cooking up ideas as to how we can interactively honour Gemini's ruling element of AIR and the FIRE of Summer Solstice.
Get ready for a facilitated breath rhythm jam and more, as well as over 2 hours of dancing followed by some social time at beautiful Temple 23  in Liberty Village, Toronto. This groovy venue is one of the last of its kind in Toronto. We'll have the Fall Equinox and Winter Solstice editions of Solar Rhythms there before it falls to the developer's axe in 2018.
Tickets and further info: Solar Rhythms.