New Monthly Yoga Event
I brought my most heart-soothing, grounding sounds to longtime yoga teacher Susan Anthony's Subconscious Streams Restorative Yoga & Soundscapes series on September 6. It was a truly beautiful, delicious experience and I'm  looking forward to the next edition of this new collaboration on October 4, again at beautiful Yoga Village in Toronto. I have known Susan for many years both as a massage client and Thai massage workshop participant and always enjoy her good vibes.
We are maxing at 8 participants to keep ample personal space in the large and beautiful studio at Yoga Village, 240 Roncesvalles Avenue. If you want to be one of the intimate group for this special experience, email Susan at  susananthony1961@gmail.com. It's certainly the perfect time for some deep relaxation and grounding! 
$30 e-transfer to Susan to claim your spot.
SUSAN ANTHONY
Susan is currently guiding Bliss Yoga classes at the Yoga Village. Bliss Yoga is a culmination and integration of over 20 years of training, practice and educating ages 3 years to over 50! Susan's certified trainings include Interdisciplinary Yoga at the Nosara Yoga Institute in Costa Rica, White Belt NIA training with Martha Randall, and Restorative Yoga training with Scott Davis as well as workshops in Thai Yoga Massage, medicinal use of essential oils and Qi Gong. Susan accredits Alison Crouch of Boomerang Pilates for the somatic learning of anatomy and the ability to really listen to the body even if you can't name all its parts. Susan continues to gather knowledge through ongoing practise of Yoga, Qi Gong, NIA; Moving to Heal, the Groove, and Mindfulness, and wishes to impart the wisdom that movement, food and rest are the 3 pillars of health and wellness at any age.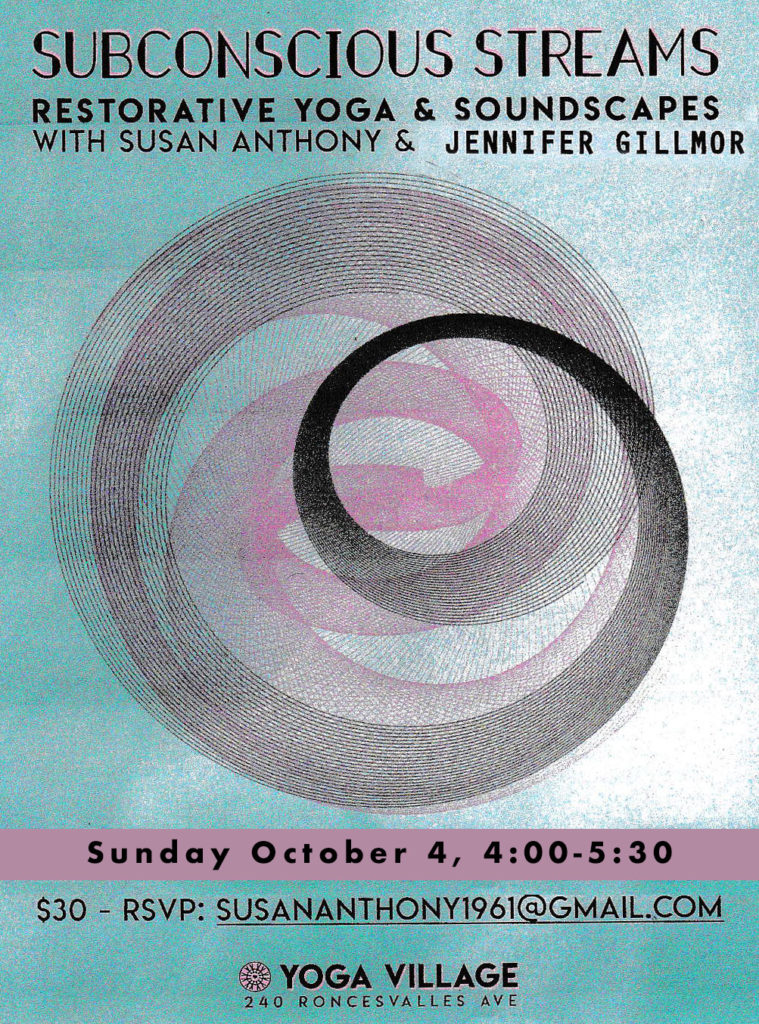 Subconscious Streams Restorative Yoga & Soundscapes