More Euphoria, January 24 at Yoga Village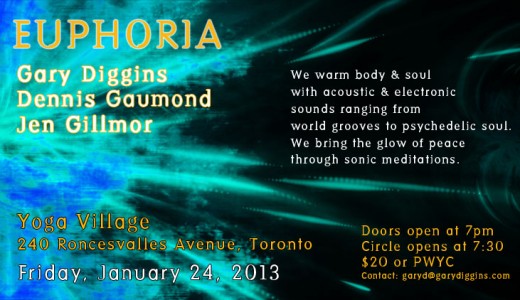 We had such a good time in our first Euphoria incarnation that we're doing it again! Warm the body & soul with acoustic and electronic sounds ranging from world grooves to psychedelic soul. We bring the glow of peace through sonic meditations.
Gary, Dennis and Jen will be combining our spirits and musical skills to create a heartful tapestry of improvised sound for you to move and groove to. We will be experimenting with some electronic vibes using rhythmic loops and otherworldly sounds along with sounds from all over this beautiful world. In his incomparable style, Gary will welcome you and guide us all into meditative moods that will feed the soul in this chilly season as we move through darkness and introspection toward the lighter days.
$20 or PWYC