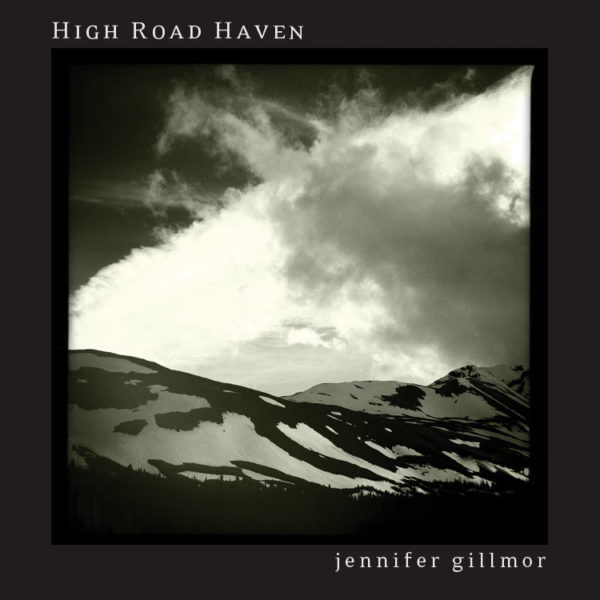 Composed, Performed* and Recorded by Jennifer Gillmor in Smithers, British Columbia, Canada, Fall ©2011
*Flugel horn on Amy's Song performed by Gary Diggins
Mixed by Jennifer Gillmor and Isabelle Noël
Mastered by Noah Mintz at The Lacquer Channel
Printed by Indiepool
Graphic design: Jennifer Gillmor Sound & Vision Design
Cover photo and headshot: Jennifer Gillmor
Yellow cabin photo: Peter J Slack
Jennifer Gillmor: High Road Haven, 2013
Retreating from big city life in Toronto in June of 2011, I spent six months in a small cabin on the Telkwa High Road outside of the town of Smithers in Northern British Columbia. Nestled in nature at its most dramatic, it was a time of great renewal and creativity. Arriving with a U-Haul containing all my instruments and recording gear, I had the blessed gift of time to discover what it would sound like to indulge myself musically for no other purpose than pleasure and exploration. The results may come as a surprise to those who have known me primarily as a bassist in so many bands!

I extend my deepest gratitude to my beloved parents Alan and Susan Gillmor for their help in creating this great adventure. Many thanks to Peter J Slack for his friendship, creativity, company on the long drive and for supporting the mastering process. Thank you to Gary Diggins for flugel on Amy's Song, to Seonaid Davis and Luis Azofeifa for the sweet little cabin and for everyone in the Bulkely Valley for making me feel so welcome. Thank you Shaw Percussion.
The diverse moods on the album were painted by the sonic colours of the following instruments: cello body as percussion, bowed cello, didgeridoo, synth sounds and various samples, bohdrán, bass guitar, ghungroos, ashiko, djembe, bell, berimbau, shakers, fretless bass guitar, jaw harp, tingshaws, antique typewriter, wood stove, ash bucket, gopichand, udu, rainstick, shaker, flute, kamel n'goni, buffalo drum.

Gary Diggins plays flugel horn.